Role and Importance of Content in Digital Marketing
The content plays an important role in digital marketing. Better the content farther and quicker the reach. Therefore, the content creation and marketing has become pivotal to the digital marketing strategies.
While planning for digital marketing, content creation should be never be an afterthought. Businesses should allocate required resources and budget for content creation.
According to a survey, it was noticed that the businesses world over increases their budgets for content creation year-on-year, >70% of the marketing agencies has planned to create more content in 2017 than last year and 35% plus has increased their budgets.
Content creation is most critical to generate organic search traffic and connect inbound customers.  Even for digital marketing modes like email and google ads also require good quality content in the marketing strategy. Even when using outbound advertising in combination with landing pages, content often provides a lead magnet or an excuse for a prospect to spend more time on the site, nurturing them further.
In earlier years, organizations used to allocate hardly 10 to 12% of the marketing budget to content creations. Over the years, this has been steadily increasing based on the successes attained. Quality content has led to successful conversions of leads, whereas average content could not create much impact on the targeted audiences. Hence, the companies have increased budgets for content creations.
All these have encouraged business facing organisations (B2B) to invest more money in content creation than the past years.
The motives behind these budget surges are clear. Firstly, online audiences are consuming more content. Video content consumption in particular has enhanced to become 74% of all internet traffic, and branded videos have exploded up alongside the most successful content creators. By collaborating with influencers and upping the ante on their production values, certain brands are reaping the benefits of increased views and better inbound lead generation.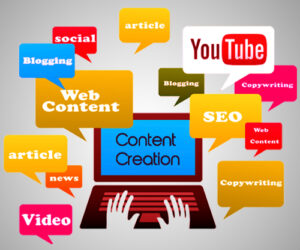 Content areas companies expect to emphasis on to find content marketing accomplishment include:
Blogs
Emails
Social media
White papers
Video
Webinars
Infographics
Budget Allocation For Content Creation
We are expecting increased spend on content creation in the near future. At present, out of the total marketing budget, only 40% is allocated for digital marketing and in that hardly 10% utilized for content creation.  This need to change, because quality content requires larger allocation, which will result in most satisfying output. This leads to higher conversions in terms of sales. So, quality content over a period will bring down the digital marketing expenses to a large extent and cost of acquisition of client also comes down.  This is very much true in case of B2B organisations even in the present scenario.
During a survey, it was found that the large amount of content creation with high quality content is good for the B2B organizations and it was also noted that detailed and long blogs with clarity generate greater leads of more than IX times than shorter version blogs and majority of the people like to go through the content thoroughly than the paid ones.
Therefore, content creation and marketing of the same is critical to the business and businesses should allocate appropriate resources and budget for increased chances of successful connect with consumers.
Finally, content marketing gives best ROI (Return on Investment) for businesses irrespective of their size and physical presence. Digital space provides a level playing field to smaller companies who have spent quite a lot, in terms of time, money and effort in creating quality content and these small, but nimble companies are able to compete with might & large multi-level organisations with ease and successful in attaining the goals.